Road Trip Radio
SYNOPSIS
"It felt new to me, talking and seeing him as a person. Realising that he too is human, with as much fear and as many worries as me."
Connections forged through music: It happens frequently, but none of us really pay attention to it.

Cathlyn and her father don't always get each other. Sometimes Cathlyn wonders if her words reach him at all, and she knows that he wonders why his words never seem to reach her either. Yet on the nights Cathlyn's father used to pick her up from her Kost, something else kept them connected: Music.

An Interview with Cathlyn Vania
When did you first start creating comics? Tell us about your journey!
CATHLYN: I didn't always draw, and didn't always create comics too. I actually used to write for the majority of my childhood and school years. I did draw some comics inspired by Hercules during kindergarten but that didn't last long!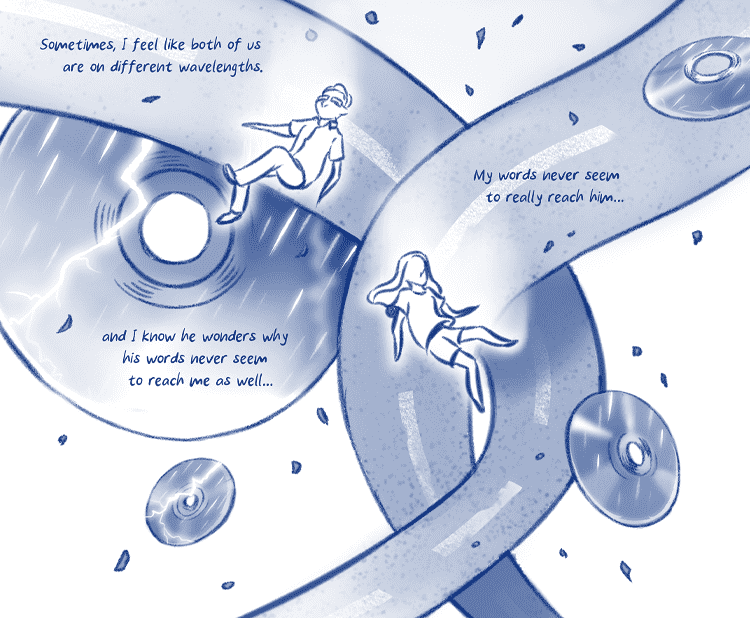 For years now, an idea of a story kept coming back to me, and for some reason I thought that the only medium for it should be a comic – no short story, or even a novel, would be able to bring it to life. So I tried to learn how to draw better. I think I started actively drawing around 2013, when I drew fanart for Shingeki no Kyojin. I also made a short fantasy comic for practice in 2017 (it's called Eaf and His Books of Hooman), and since then I've just been practicing! Sometimes I share personal, "smol" comics on my instagram, but they're quite sporadic.
What and who are some of your favourite comics series or artists?
CATHLYN: Michael Sweater's comics are so much fun! I've also been following Stephen McCranie's Space Boy for a while now and Witherling's Crumbs on Webtoon (which just ended). As for artists, I've recently stumbled upon Jordi Lafebre's works and am in love! I've also been steadily collecting Lucy Knisley's books, and thinking back, discovering her book, Displacement, was one of my first introductions into the vast world of graphic novels.
Why did you submit "Road Trip Radio" to SOUND?
CATHLYN: I actually thought about this: Why here, why now? And the only reason I could come up with was that I didn't think I'd have the courage to finish this piece if not for this anthology. It had been brewing in my mind, and when SOUND came up, it just felt right. And maybe I'll feel less alone with all the other stories being shared in this book :')

How did "Road Trip Radio" come to be?
CATHLYN: It honestly stemmed from this restlessness, from my relationship with my father and how I want to acknowledge my love for him but I can't seem to do that on a daily basis. I was then somehow reminded about these "rock-out" moments we had whenever he picked me up from campus back then, and thinking that these times were actually when I began to realise how much I've grown to see that my father was growing up as well, next to me – a living, breathing human being who is my family.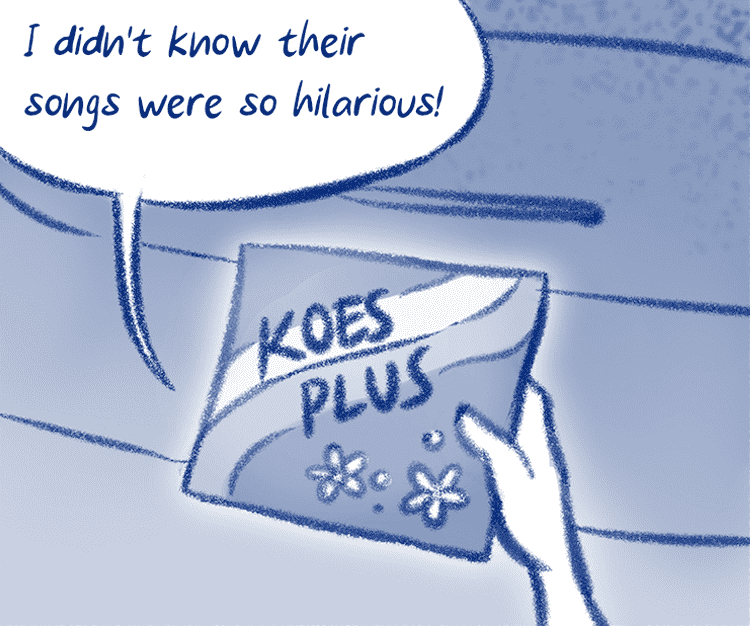 Were there any challenges you faced working on "Road Trip Radio"?
CATHLYN: Mmmmm... This one's pretty personal, but it was particularly hard to write and draw on the days where I had a fight or disagreement with my father. This is a love story, and I'm writing this to reconcile, even if it's just between me and my feelings – embarrassing as they are. So to get to a place where I felt only good things was quite a challenge. Some days I wasn't sure why I chose to go down this road :')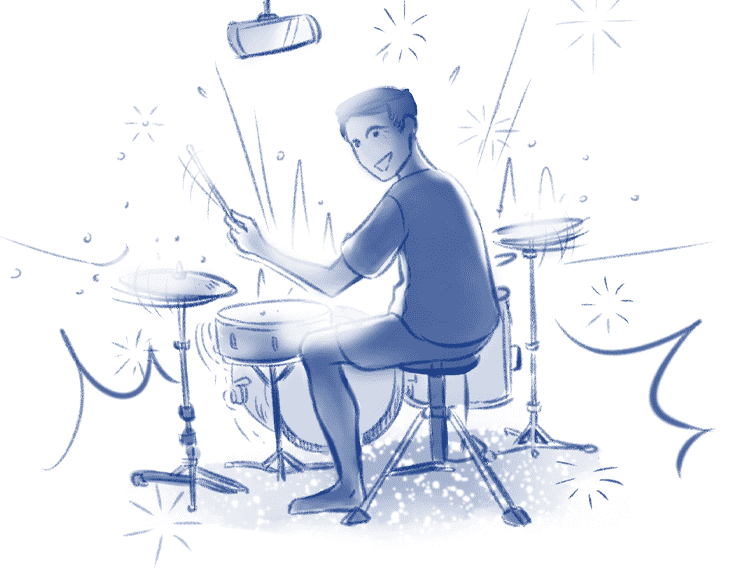 What was your favourite moment during the creation of "Road Trip Radio"?
CATHLYN: I actually tried to listen to Koes Plus again for a while when working on this… But I think I just ended up listening to a lot of Dua Lipa and Kate Bush for motivation!
Who were some of your favourite music artists growing up, and why? Did your parents play a big role in influencing the music that you listened to?
CATHLYN: As a kid, I was a big fan of Britney! Whenever she came on TV, I would just run and stand in front of the TV, trying my best to absorb all of it. It was like, "Oh, what's the story this time? Oh, that costume is crazy! Oh, I've seen this MV before so it's karaoke time!" It's strange because my Dad was sort of against the idea of Britney Spears as my idol, but he was also the one who bought a poster for me, and insisted to have it framed (custom-made!) so that I could hang it on my wall with a nail instead of taping it. I guess he was worried about me making a mess on the wall. Aside from Britney, I think MTV was a big part of my teen years as well, so I think I was just listening to a lot of billboard top hits, and afterwards YUI, during my J-pop phase! I remember during kindergarten or elementary school, my mom had this Yanni and Enya phase, and also I believe for a time she kept listening to Richard Clayderman and Vanessa Mae. I came across Vanessa Mae's live performance of "Contradanza" while answering these questions, and thought, "Okay, THIS was the thing that was played a lot in our house!" I remember telling my friends about it at school, but no one had heard of these musicians. And with my dad, as I mentioned in the comic, he loves slow rock. There was a lot of Bon Jovi, and a lot of Indonesian pop/rock bands as well but I can't remember. I think there was Ebiet G. Ade, and even our local band Peter Pan (they were really popular during the 2000s), and it's safe to say that my dad was (and is!) into pop songs as well. We listened to a lot of Robbie Williams, and The Corrs – to the point where me and my sister had enough of The Corrs now! We used to play it a lot on our road trips (actual road trips across town, which could take houuuurs!). But I think as I got older, I got the privilege to tune out on the back seat, listening to Mariah Carey (yes, somehow I had one Mariah album, I think it was Emancipation of Mimi) on my walkman.
Apart from the memories with your father, did anything else inspire "Road Trip Radio"?
CATHLYN: I was inspired by This One Summer by Jillian Tamaki, and Spinning by Tillie Walden. They have such a way in portraying feelings. The movie, Lost in Translation, by Sofia Coppola has also been my inspiration for a long time now, and although I didn't rewatch it in preparation for this project, I think some of the elements and the way the story is told still remains with me.
Who is your intended audience for "Road Trip Radio" and what is your message to them?
CATHLYN: I imagine my father reading this, but I'm not even sure if I'm brave enough to show him! If I have to be honest, I made this largely to soothe my broken heart, but maybe somewhere out there a daughter or a son can be reminded of their own relationship with their parents and how they feel about it. It might not be inside a car with slow rock playing, but somewhere in that space where some words and feelings can be so hard to convey.
Do you think it is important to create comics inspired by or set in Southeast Asia?
CATHLYN: As of now, I don't think we have enough representation of Southeast Asian folks in the media. My point of reference of Indonesia growing up was honestly sinetron (a soap opera or telenovela), and as a child, I consumed things that had to be translated first, like Doraemon, W.I.T.C.H (the comic magazine), or Donal Bebek (Donald Duck). So when the comic Garudayana by Is Yuniarto was first released during my junior high or early high school years, I was so excited! To finally have a local hero, presented in this very cool universe inspired by wayang and the Pandava family – that was everything to me. So I think it's super important for children to see heroes and characters that look like them and come from their hometown having grand adventures.
As a comics creator, what do you hope to see more from our regional comics scene?
CATHLYN: Fantasy series, auto-bio and personal stories, slice of life, anything really. If we can perhaps have the Southeast Asian equivalent of ATLA, I think that would be amazing!
Cathlyn is a writer and illustrator from Indonesia. As a comic artist, she still has so much to learn and she hopes to give birth to many more stories in the future. When she isn't drawing, she enjoys playing some chill narrative-driven games or goes on silly adventures in D&D.

Come say hello to Cathlyn on Instagram @cathsplat, where she shares most of her drawings and other shenanigans.