Voices and Votes
SYNOPSIS
"Pilo, it's not just your decision. It is the townspeople's decision too. If they crave for change won't they choose someone who will give them that change, that progress?"
When candidates are desperate to gain the trust of the people, we follow Pilo, a taho vendor in Baywalk Area, Liwanag, as he sells his delicacy in the area before Election Day itself.

Selling his taho, Pilo comes across people from all walks of life who share their political opinions with him. Yet, Pilo remains undecided as he contemplates between different politicians. Further complicating matters are the circumstances of his family, where they are dependent upon the mayor for the continued education of their daughter.

Does he vote for the incumbent for his family, or the opposition arguing for better changes? Does his vote even matter in the end?
An Interview with Ruth Chris De Vera & Rafael Romeo Magat
How did you both venture into storytelling and illustrating?
RUTH: I am a bookworm, to start with! What really got me into writing stories was the dream to have my own published novel, just like those of JK Rowling and Dan Brown, to name a few. Well, I started out creative writing at 11 years old, writing for a school paper and school projects. I wrote poems, features and scripts for plays and got a campus journalism gig going until college. Writing has been a habit for me, that's why I continue writing and still continue developing effective storytelling and effective writing skills.
RAFAEL: I've wanted to draw for a living since I was 4 years old and I decided on comics when I was 10 after reading Frank Miller's Daredevil run. I've made it my life's goal to draw comics and it's my dream to draw Superman someday.
How did the two of you come together to collaborate on "Voices and Votes"?
RUTH: I contacted Rafael when I saw his comment on the Difference Engine's FB post that he was looking for a writer to collaborate with for the SOUND anthology. I contacted a few more, but was lucky to have Rafael work with me. I sent him two pitches and we agreed on one, which was "Voices and Votes".
RAFAEL: I was looking for a short project to do in 2019, and I stumbled upon Difference Engine's call for submissions. I posted my samples as I was looking for a writer and Ruth got in touch with me about collaborating. She sent over 2 pitches and we agreed on the one that became "Voices and Votes".
Was this your first time working with each other?
RUTH: It was my first time working with Rafael, and on a comic as well. I am an amateur University Publication Writer, but I usually work on news features and current events. Also, I am more comfortable in writing in prose and poems rather than creating scripts for comics. I learned a lot in this entire process – from the script writing itself, the rules, and the best practices. I also learned more about collaboration, since I am used to working on my own with my writing. With this collaboration, I learned to open up to ideas whilst creating the script, with Rafael giving me good references to study or giving some needed tips on each page or just simply suggesting add-ons.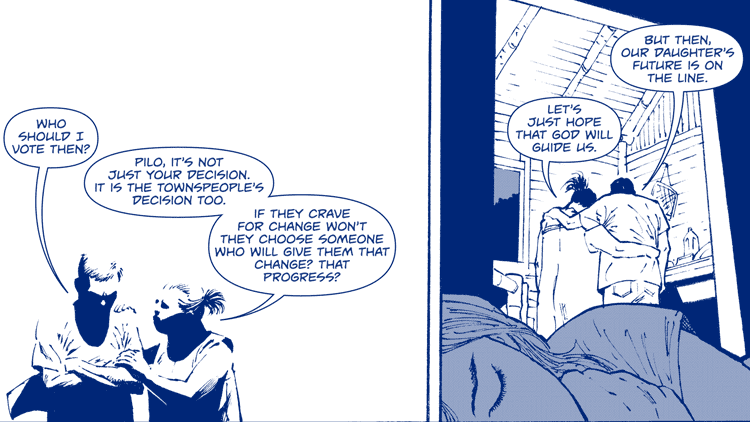 How did you come across SOUND: A Comics Anthology, and what made you pitch "Voices and Votes" to this collection?
RUTH: I came across SOUND: A Comics Anthology when a Senior Engineer at my work, an active comics advocate here in the Philippines, shared the post for the SOUND anthology.
I've been meaning to create a post or article about the 2019 PH Senatorial Elections, about how a mere employee and millennial like me sees the election period, how important my vote is, or how it affects my current situation and my future situation. Then I saw SOUND as an opportunity. It's the appropriate platform for the "Voices and Votes" as it has wider readership, meaning we can reach other millennials and more, to help them reflect on the importance of their votes. I think it is a better platform than what I planned to which is, of course, the socmed, because it was supposed to be just words; and thanks to Raf and the Difference Engine, "Voices and Votes" is not just a boring article out there in the archives of Facebook, but a comic section in the SOUND anthology.
RAFAEL: I saw the call for submissions online and I felt that the anthology was something unique that I'd really like to be a part of. I think Ruth made the pitch with the theme of sound in mind, so the story is tailored to the anthology.
How did you come up with the premise of "Voices and Votes"?
RUTH: The Philippine Senatorial Elections 2019 sparked off the idea for "Voices and Votes". It started off as an idea for an article, but when I saw the SOUND: A Comic's Anthology call for entry, it became an idea for a silent comic with the main character just experiencing day-to-day sounds of the election period: Campaign jingles blasting off, speeches by the candidates, the chatter of a crowd. The main character was also supposed to be an office worker living in the suburbs and commuting back and forth to work!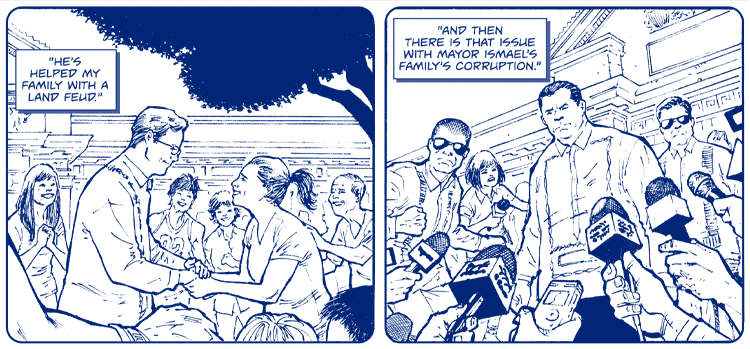 What research went into "Voices and Votes"?
RUTH: Research was done on the scenarios involved in the comic such as the case against a senator and corruption allegations to various candidates. Research was also done on the process of cooking taho, and I observed and interviewed taho vendors to know their routines and their views on the society.
The main character was supposed to be an office worker, such as myself, experiencing the day to day sounds of the election period, because it is easier for me to tell the story based on my experiences. I could relate to it but then Francis Lazatin Jr., a special friend of mine, told me that it was not relatable to most of the population, and did not emphasise on the effect of the elections effectively. The effect is felt more by families that are less privileged, and those who don't have enough for their family. So, the main obstacle I had was to decide what to focus on, and changing the main character helped me with that. Also I had a bit of trouble with the conflict of the story, on how to introduce conflict and what it was, because I thought that the election was too mundane. But I found the answers while interviewing taho vendors about how they decide on who to vote for, and what they consider about the candidates.
RAFAEL: On my part, the research I conducted had more to do with gathering reference for environments, clothing, vehicles, etc. I will admit that I didn't learn too many new things researching this project as I live in the Philippines so most of what I had to do was reflect my everyday surroundings in the art.
I didn't face too many challenges in drawing this comic, though I did face some difficulty in drawing vehicles and crowds.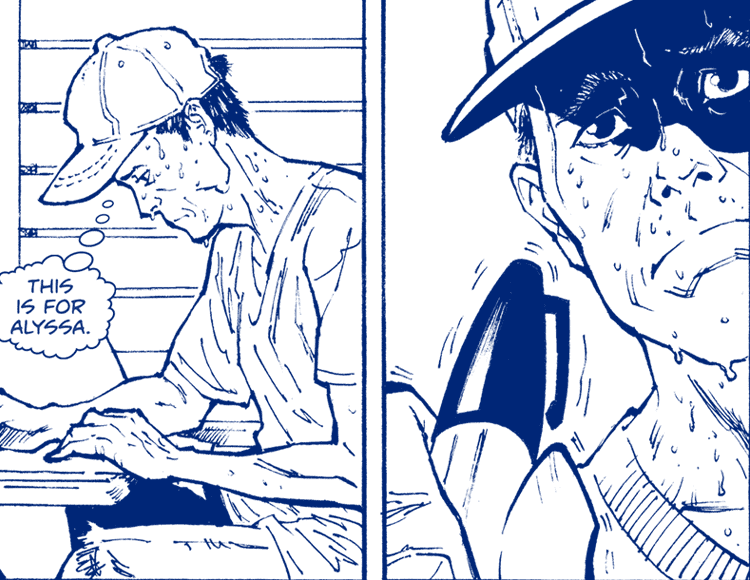 Do you think society today is aware about the importance of their own votes?
RUTH: The current events unfolding in our region have a lot to say about the society's standard for voting candidates. I am a bit disappointed with the current society, myself included, for not using their votes wisely, for not being thoroughly keen about who they're voting for, and for not informing most about the importance of each vote. It is important to know what or who you are voting for to realise which direction your nation will be steering towards, and to know that the person you are voting for is capable of leading the nation towards an uphill drive and that they are capable of helping the nation stay in that uphill direction during their term and thereafter.
RAFAEL: I really hope they are. I don't think I need to explain too much, but it's incredibly important to know who you're voting for and I think it's as important to know why you're voting for that person and why you feel good about potentially voting for them.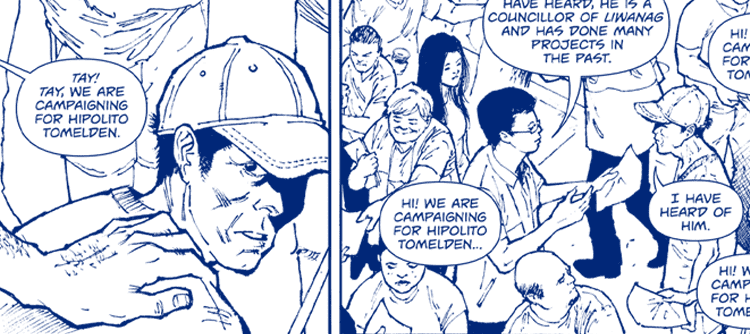 Who was the audience that you had in mind as you crafted "Voices and Votes"? What message did you have for them?
RUTH: The audience that I had in mind was everyone who is interested in political and societal goings, and those who would be inclined to vote. They have the interest and understanding for these topics and would be actively engaged in discussion about politics.
"This is how we, in the base of the triangle, live. This is how the election affects us. This is how we consider our votes." I want the audience to see how election affects those who are in the base of the hierarchy, to highlight the inequality, the abuse, their mindset about election. We want to show that there is that internal conflict in them, a better tomorrow or a secured present.
RAFAEL: I hope that this story appeals to anyone who's inclined to vote. I think that Ruth can answer this better than I can, especially since I have a bit of a journeyman mindset, but I hope that anyone who's had trouble picking a candidate on election day can relate to the story we made. Not that our story can make that choice easier, but it can be comforting to see your world reflected in your fiction.
On my end, I always tried to highlight the inequality that Pilo faces everyday, which is why you usually see him from a bird's eye view. It's not really a message though, just more of an attempt to visually reinforce the story.
Was any part of the story in "Voices and Votes" inspired by real incidents?
RUTH: There are hints of real-life events in the story. Basically, the whole story is a reflection of the election period in the Philippines and with Rafael's art, it helps you dive in the feels of the election.
RAFAEL: On my part, no, but of course – since I'm Filipino – I tried to impart the feel of my country during the election period via my art
Being a creative in SEA, do you think it is important for different creators to collaborate?
RUTH: Certainly! Collaboration allows you to gain new perspectives on topics around SEA. Also, collaborating with another creative allows you to explore and modify your creative process. It's a win-win situation actually!
RAFAEL: Of course, because a diversity of voices and viewpoints is a necessity for crafting Southeast Asian comics into a strong and long-lasting medium.
Do you think it is important to create comics inspired by or set in Southeast Asia?
RUTH: When you think of comics, what comes to your mind? Marvel, which is set in the US, and Manga, manhua and manhwas from East Asia. You can see from there that Southeast Asia is not represented much on the comics stage. It is important to create a comic set on or inspired by SEA, to inspire a movement to make SEA – its talents, its diverse culture and its diverse setting – to be known in the comics scene.
RAFAEL: Yes, as our region has been historically underrepresented on the world stage (especially in terms of pop culture) and we should see if anyone is interested in what we have to say.
What are some themes you'd like to explore next?
RUTH: I would probably want to work on reinvention of myths and magical powers in the future, to divulge myself into some of the folklores in our region. I think that would mean a lot of historical research, but that would definitely be worth it.
RAFAEL: I would like to draw something in the superhero or fantasy genre. I've been drawing normal people for a while now, and I'd love to flex my action-scene muscles again.
As a comics creator, what do you hope to see more from our regional comics scene?
RUTH: I'm a bit knowledgeable in the PH Comic scene – there's Trese, which talks about some mythical creatures, there's Kikomachine Komix, which tackles everyday issues and current events, there's Duty Ka Ba Komiks, which is a slice of life of a doctor, there's Hotdog Prince, which is Superhero stuff – to name a few, and I can say that we already have a lot of different genre of comics in our region but it is not that popular because our people tend to read comics from other regions. I guess what we need in our regional scene is to be seen more. Let people know that the Southeast Asian Comicverse is a thing, that it exists! We have a lot of engaging stories in our region! We just need a bigger audience.
RAFAEL: Do you know that American superheroes only account for 10% of the North American graphic novel market? That number probably goes down considerably when put into the context of the entire world. What I feel that comics in Southeast Asia should do, is just keep being themselves and telling more stories inspired by the creators' experiences. Just look at Korean dramas, they just tell stories about Korea, and they're popular everywhere. We should just be honest and true, and (hopefully) the acclaim and success will come.
Ruth Chris Casaclang De Vera, 26, is a Filipino, and an Electronics Engineer by profession. She is affiliated with Analog Devices Inc. She writes and creates art as hobbies.
Rafael Romeo Magat is a Filipino illustrator best known for his published work in multiple issues of the UK anthology FutureQuake. He has also contributed covers and interior art to Jill Trent: Science Sleuth 1 and the launch story of From Beyond Comics. In his spare time, Rafael drowns his sorrows in NBA games and Korean dramas.