The Whispers of the Earth
SYNOPSIS
"Please listen to this story, which we pass down from generation to generation… Mother to daughter, father to son, elders to youngsters."
Ilona, a young journalist from Jakarta, searches for an elderly woman from Simeulue Island who survived the tsunami of 2004. The woman, Geumala, is among the 70,000 people who was saved due to the local wisdom called Smong – a bedtime story reminding people to head for higher ground when the tide recedes drastically following an earthquake. A storyteller herself, Geumala begins to tell the story of her sister, Nabeuët.

Keenly attuned to the natural world, Nabeuët was misunderstood by other islanders. Nabeuët was highly sensitive to intuiting the Earth's changes in her body to the point that she could hear the "whispers of the Earth." She was the key for the survival of the people on the island. There was only one problem: Nobody believed her.
An Interview with Amahl S. Azwar & Nadiyah Rizki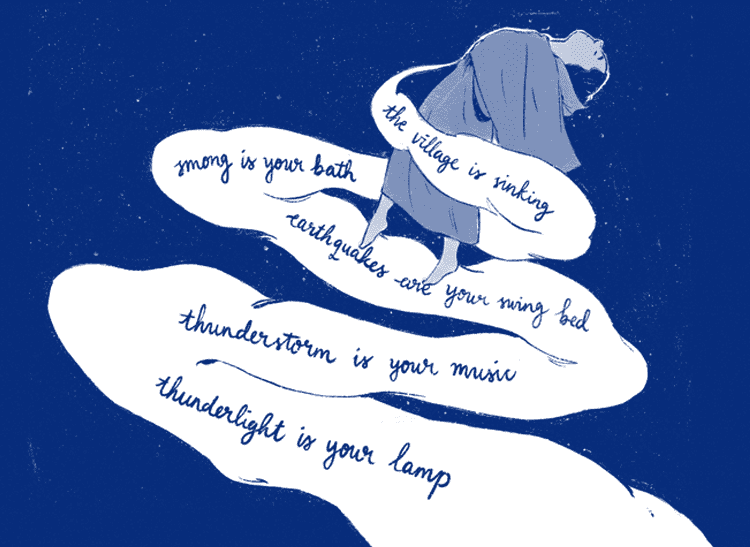 How did the two of you meet? Was this your first collaborative effort together?
AMAHL: Yes, this is our first collaborative effort together. Nadiyah contacted me first via Twitter. I've been following her work for awhile – I admire her a lot! I was very honoured when she told me about the project, and I said yes immediately.
What was the creative process between the two of you working on "The Whispers of the Earth"?
AMAHL: I wrote the draft and showed it to Nadiyah. I had some ideas about how we should tell the story, and asked her for guidance on how to write a script for a comic (this was my first time!) because I wanted to make sure that she could understand my writing. We kept communicating and gave each other suggestions.
Nadiyah is very patient and encouraging. To be honest, it was not easy for me to finish the script because sadly during the time we were working on the project, my partner was dying from cancer. Nadiyah knew this and she kept encouraging me to do my best while at the same time saying that she would understand if I could not finish it. Her encouragement and support made me work even harder because I wanted to write a beautiful story for our first project together.
What inspired you to send in your story to SOUND?
NADIYAH: I've never done a "serious" comic before, and when I heard about the open call I thought that it was a challenging way to see what I could accomplish, and learn how to collaborate with a writer.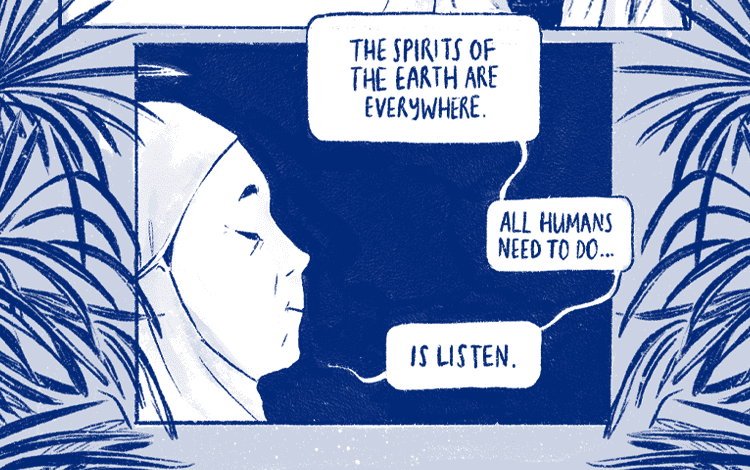 We understand that "The Whispers of the Earth" is based on a real-life experience that is commonly referred to as "the tale of Smong". Why did you both decide to adapt this folklore into a short comic for SOUND?
NADIYAH: The origin story was actually a report by Tempo about a 112-year old woman who survived the 1907 tsunami, and I also read articles about how Smong saved thousands of lives when the 2004 tsunami took place. Then I invited Amahl to develop a story based on a similar premise, because he is Acehnese and more familiar with the culture.
AMAHL: Nadiyah contacted me via Twitter and told me about this amazing story on Smong. Interestingly enough, I actually lost three cousins and an uncle because of the 2004 Earthquake and Tsunami. I immediately said yes when she asked whether I'm interested in writing a script – I used this as an opportunity to pay a tribute to my lost family members. I actually borrowed the name Ilona, the journalist in the script, from one of the cousins.
What kind of research went into "The Whispers of the Earth"?
NADIYAH: As an artist, the research I did was mostly to help me imagine what 1907 Simeulue would look like. At that time, the Dutch occupied the land, so it was pretty challenging to find the reference pictures from Dutch sources.
As this comic is kind of historical, there's a huge responsibility to portray it well and do the Simeulue people justice. I tried the best I could with the little resources that I had.
AMAHL: Mostly desktop research! A lot of articles from experts and journalists covered Smong so as long as we diligently researched it, it wasn't really that hard. I am still a little bit concerned, though, because at the end of the day, this is a work of fiction so of course there will always be some inaccuracies. However, I think we did our best to make sure that is not the case – we want to pay respect to the Simeuleue people. I do hope that this story can make more and more people aware about the importance of storytelling in the modern world.
I learned to work in a team and, while I always respected comic artists, this experience really made me respect them even more. This is my first time writing a script for a comic so I still needed to get used with the format.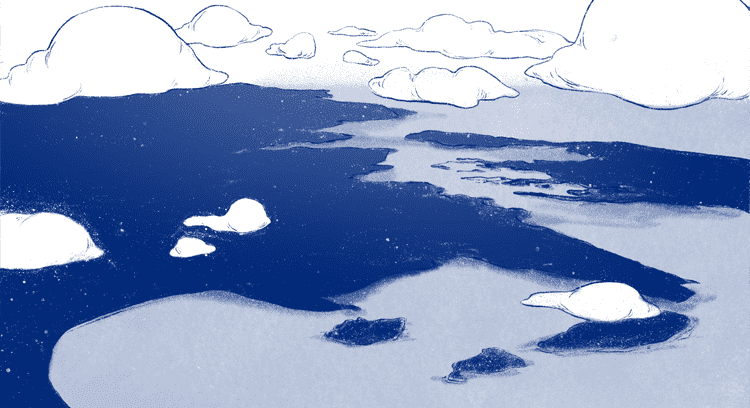 What are your thoughts on the preservation of culture and history, especially in modern society where progress is often emphasised over tradition?
AMAHL: I believe that there should be balance between the two. I am all for progress but at the same time there are some traditional values that are still relevant for our everyday living. We should embrace our past, while living for now. Because sometimes progress at one point can be turned into tradition. In the story, when the main character expressed her premonition to the villagers, they were adamant that she was delusional and later accused her of witchcraft – in the end, her legacy became a tradition.
NADIYAH: I have very complicated feelings about this so I don't know if I can air it out now...
Did you have any message in mind when you created this story?
AMAHL: I have always been a sucker for strong fictional women who were often misunderstood. Elphaba from Wicked was one of them. She's a badass character but so misunderstood. So I wanted to write a similar story on how someone who perhaps was misjudged as evil, was actually good from the start.
Of course, though, the main goal is to ensure that more and more people are aware about Smong and its history. I hope people won't just stop at reading this short comic – I want them to even read more about the origins of Smong.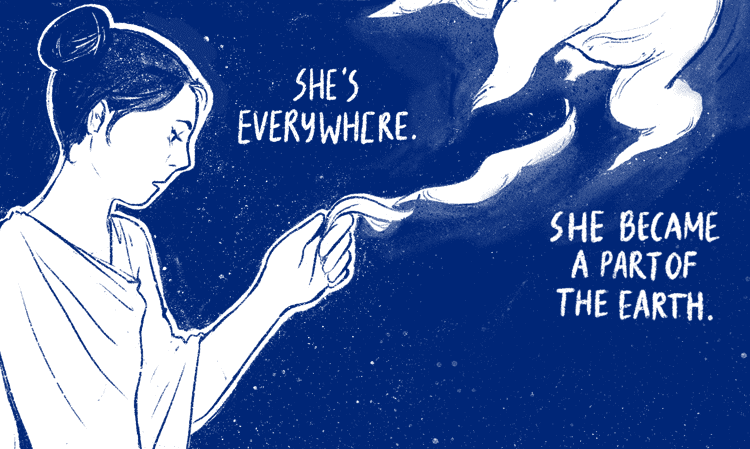 What are some subject matters or themes that you hope to have an opportunity to work on in the future?
AMAHL: Right now, I really want to write a love story between a same-sex couple in Southeast Asia, but set in the Dutch colonial era.
NADIYAH: I don't have anything in mind right now because I need to graduate soon.
How important do you think it is for our regional comics creators to collaborate?
AMAHL: I think it's very important – we need more people to see that as Southeast Asians, we have plenty of stories to tell! And this kind of project really helps to showcase that.
Do you think it is important to create comics inspired by or set in Southeast Asia?
AMAHL: Yes, definitely. As far as I know, not even Disney has a story set in Southeast Asia. I heard they're working on something soon but still it is like it's been too long. Plus, I think not many Southeast Asian stories have been told yet – we do have amazing stories here!
NADIYAH: Personally, I usually create art using elements that I'm already familiar with – therefore it's usually set in Southeast Asia, since I was born and raised here. My opinion on this question is kind of complicated, since I think it depends on the audience. If I know that the art I'm going to make is going to be exposed to an international audience, I usually self-reflect a lot in the process to make sure that I don't self-orientalise/exoticise. There's also this kind of feeling that I have to "represent" Southeast Asia, which is an impossible task (and can be very problematic), so I try to avoid that. But if the audience are people who share the same backgrounds, I still think it's important because it's a way to connect to them and preserve our collective memory.
As a comics creator, what do you hope to see more from our regional comics scene in the near future as well?
AMAHL: Yes, please. I am so excited about this project. I can't wait to read other stories from other creators – and will surely hope I can write more comic scripts in the future.
NADIYAH: More diverse stories and creators!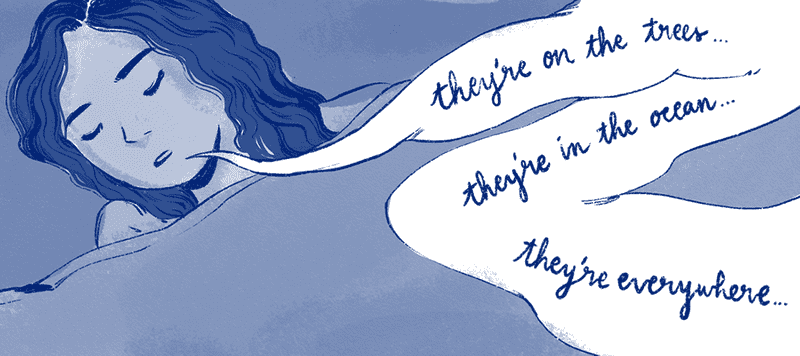 Amahl S. Azwar is a freelance writer who currently resides in Chiang Mai, Thailand with plans to relocate to Bali, Indonesia, later this year. He has written for VICE, The Fix, Magdalene, and Esquire Indonesia. "The Whispers of the Earth" is his first comic project, in which he is delighted to collaborate with Nadiyah Rizki.

You can connect with Amahl on Twitter @mcmahel, Instagram @amahlsazwar, and at www.menjadipositif.com.
Nadiyah is a freelance illustrator and comic artist based in Bandung, Indonesia. Her source of inspiration revolves around Indonesian culture and folklore. With her growing passion for visual storytelling, she makes art from stories she holds close to her heart.

Find more of her work at www.nadiyahrs.com.